Merchant Services
Accept Online Payments
Apply for a merchant account with Dotology today and Save! Our merchant account rates start as low as 0.45% and only $0.15 per transaction! Whether you are an Internet based, Mobile Based, or Retail store front Business you can start accepting all major credit cards. You will also be able to process Pin-Based Debit Cards, Apple Pay, EMV, Gift Cards, Loyalty Cards, Checks, and eChecks) We guarantee you the lowest rates in the industry! Your account can be approved and ready to process as soon as only 1 business day!
Once you have completed the online application, you will be notified by email as to the status of your merchant account application. If at any point you have questions filling out our online application please call our merchant support center at: 1-866-627-7083.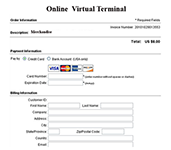 Online Credit Card Processing Terminal (For All Types Of Businesses)
Our Online Virtual Terminal can be accessed easily from your Personal Computer or Smartphone Device. Once you are logged in, you will be able to initiate all credit card authorizations, settlements and refunds. Your business will now be able to collect credit card sales directly from your website, telephone order, and/or mail in orders!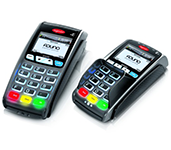 ICT 250 (For Retail Store Front Businesses Only)
Ingenico Group's iCT250 credit card terminal has the intelligence and versatility to stand alone, in even the most demanding retail environments. This countertop device gives your merchant customers the freedom to accept all existing forms of electronic payment – including NFC/contactless, Apple Pay, EMV (which includes Chip and Pin Technology) and mobile because it requires absolutely no interface with a cash register or POS system. All operations – from payment processing and receipt printing to settlement reporting and brand enhancement programs – generate from a single, secure and easy-to-use color device.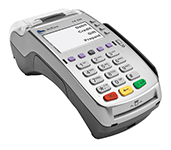 VX 520 (For Retail Store Front Businesses Only)
Verifone's VX 520 credit card terminal is a reliable, rugged countertop device that's built to last. It handles encryption, decryption and processing at lightning speeds thanks to its powerful processor and expandable memory. Integrated NFC capabilities support alternative payments, Apple Pay, EMV (which includes Chip and Pin Technology) and also supports value-added applications such as loyalty or gift card acceptance. A full range of connectivity options, from dial to dial plus Ethernet, with an optional battery allows the VX 520 to go wherever you go. A uniquely designed communication port area underneath the device keeps countertops neat and free of clutter.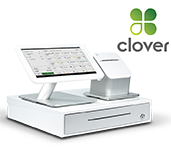 Clover POS (For Retail Store Front Businesses Only)
Clover replaces your cash register, payment terminal, receipt printer, and barcode scanner with an integrated suite of products. Accept credit cards, EMV, and Apple Pay. Get to know your business and your customers better with reports you can run at work or from home and applications that streamline your workload. Key features of Clover include: Large and bright 11.6" touchscreen, Encrypted swiper runs down the side of the display and is designed for maximum reliability; Proprietary pivot arm swivels smoothly between merchant and customer reduce cord clutter with a single power source for display and printer Ethernet, wireless, and bluetooth options for optimal connectivity 4 USB ports to connect peripherals.
Merchant Account Features:
No Set-Up Fee
Instant Approval
Our Secure Online Application SHOULD ONLY TAKE A FEW MINUTES TO COMPLETE.
** By Federal Law, All Information Provided Will Remain Confidential **
Services by PayMeSecure
PayMeSecure is a registered MSP/ISO of Wells Fargo Bank, N.A., Walnut Creek, CA .
American Express® requires separate approval.
* Restrictions apply and on approved credit. Monthly fees may apply.