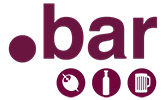 The Global Domain for Bars.
Get your .bar today for only $74.99*.
About .bar:
.bar is a new Generic Top Level Domain (gTLD), owned by Mexico City-based Punto 2012, that is specifically geared for the bars, pubs and nightclubs, including bar and restaurant guides, critics, delivery services, wine and liquor, and related industries. The launch of this domain is part of a new phase of the Internet, where domain endings are more defined and better categorized. The availability of .bar over legacy domains such as .com or .net, enable businesses to use short, descriptive and accessible URLs that better define what they are and what they do.
.bar will enable bars and relevant businesses in the food and beverage industry to build an easily accessible neighborhood online and to have access to previously costly, unavailable, or unmanageable Internet addresses.
Restrictions:
No restrictions on registration
*Plus $.18/year ICANN Fee
Details for .bar:
Available For Sale:
Yes
Available For Transfer:
No
Maximum Registration Period:
10
Privacy:
Yes
Eligible for Renewal Grace Period:
Yes
---