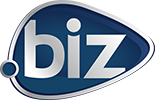 Better Name. Better Results
Get your .biz today for only $15.99*.
About .biz:
.biz is a shorter name. .biz is a better name. .biz is one of the most popular Top Level Domains (TLD) and gives you a better shot at Search Engine Optimization (SEO) with the short name that best matches your business. .biz is brand value for your domain name.
What's in a name?
Plenty! Anyone who has ever searched for their top three name choices and ended up with their last resort, can tell you exactly what's in a name: Customers. Money. Results. If you want to generate business, get the right name with .biz.
Starting a business is hard work. Keeping a business going is a 24/7 proposition. But what if no one sees all of your hard work, because they can't ?nd you? .biz is about visibility. Yours. Get visibility with a better name and achieve better results. With .biz, put your name to work for you.
.biz is international:
Oh, and entre nous, .biz doesn't stop at English. .biz is proud to offer international domain names (IDNs) in Chinese, Danish, German, Icelandic, Japanese, Korean, Norwegian, Spanish, Swedish, Finnish, Latvian, Lithuanian, Hungarian, Polish, and Portuguese. So, slainte, proost, banzai, salud, kong gang ul wi ha yo and cheers to your business! We'll see you online—because with your shorter .biz name, we'll be able to find you!
Restrictions:
No restrictions on registration
*Plus $.18/year ICANN Fee
Details for .biz:
Available For Sale:
Yes
Available For Transfer:
Yes
Maximum Registration Period:
10
Privacy:
Yes
Eligible for Renewal Grace Period:
Yes
---