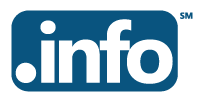 Making it easy to find information online.
Get your .info today for only $12.99*.
About .info:
.info symbolizes information and has widespread global recognition across multiple languages. This top-level domain (TLD) reflects straightforward access to the information you want to share, whether it's an introduction to your business, personal information, or educational material .info is the logical TLD to share it on the web.
Restrictions:
No restrictions on registration
*Plus $.18/year ICANN Fee
Details for .info:
Available For Sale:
Yes
Available For Transfer:
Yes
Maximum Registration Period:
10
Privacy:
Yes
Eligible for Renewal Grace Period:
Yes
---