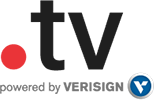 Your online destination for media.
Get your .tv today for only $37.99.
If your web site moves, it belongs on .tv
.tv is the address for rich and dynamic media on the web. It's the preferred destination for video, film, animation, user-generated content and rich media of all kinds.
Your TV channel on the Web:
.tv is a top-level domain, just like .com or .net. But what it says about you is entirely different. Like .org or .edu, .tv is a statement about who you are. When users see a .tv address, they know they're accessing a destination that's alive, active and compelling.
.tv Availability::
.tv is a wide-open frontier of domain names. A .tv web address is much more likely to be available. Choosing .tv frees you from being hemmed in by established web sites.
Restrictions:
No restrictions on registration
Details for .tv:
Available For Sale:
Yes
Available For Transfer:
Yes
Maximum Registration Period:
10
Privacy:
Yes
Eligible for Renewal Grace Period:
No
---