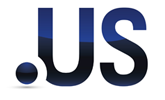 Make "America's Address" Yours!
Get your .us today for only $8.99.
What do you know about .US?
US-based enterprises or companies doing business in the US can get a fresh new extension that goes to work for their organization immediately. US-based clubs, communities, individuals working from their homes, all can secure the best US branded website. That's .US.
.US Offers:
Short, accurate website names — no compromising the website name you really want because it's not available
Improved search results and rankings by having a more accurate, easier name to find
Security in an insecure world
Instant brand reinforcement and audience education
Creativity
What fabulous, wondrous, exclusive way will you use .US?
Restrictions:
Restriction: NEXUS Requirement
Details for .us:
Available For Sale:
Yes
Available For Transfer:
Yes
Maximum Registration Period:
10
Privacy:
No
Eligible for Renewal Grace Period:
Yes
---